Appearance
Edit
Brown hair, Hazel eyes, 5'9 and an athletic body style. But he is kind of nerdy and has braces.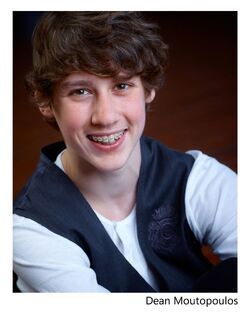 Personality
Edit
He is a positive, optimistic, happy-go-lucky, fun-loving guy who is still shy about singing even with him being an artist with a record deal.
He was born on the 14th February 1996 to Selena and Mark Dawson. He grew on a cattle ranch in Montana so you could easily call him a country boy. At an early age he would go out on his horse and sing while riding along the mountains surrounding his home. He always kept his singing ability to himself though and never told any on his class mates.
Then when Andrew was 13 his parents moved down to the west coast in sunny California. There he had to adjust to living in the concrete jungle instead of the great rocky mountains, but after a few years he grew to like living with more people around him. Eventually he even made a few friends but didn't tell them about his singing talent either.
On his 16th birthday Andrew was listening to the radio after having a big party when he heard that a recording company was looking for some artists they could sign up with. After much deliberation he eventually went to the company building and went in front of the judges after a long wait. Andrew made the choice of singing "Little Wonders" By Rob Thomas which was something the judges hadn't heard someone sing in a while. After singing Andrew was easily chosen in one of the top 3 and signed a recording contract soon after a quick talk with his parents.
Relationships
Edit
Relationships
Edit